When I looked into how NPR was plotting a road trip, I discovered they were using Google My Maps. The two year old feature lets anyone manually create a mashup. It has a great feature-set, can be embedded and you can even collaborate with friends.
That last item led to another realization: NPR's map was publicly editable.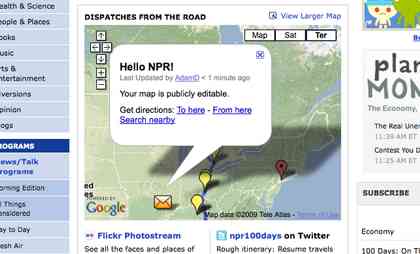 I was shocked when my edited icon really showed up on NPR's site (via the embedded map). Even though the My Maps settings seemed to allow editing, it felt wrong to be controlling a piece of public radio's flagship site.
I moved my icon down to Panama, where most wouldn't see it. Then I promptly emailed the addresses listed as other collaborators. I wanted to leave the map edited, because I was worried that they wouldn't fix it if it didn't appear broken.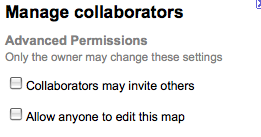 How to Keep Me From Editing Your Maps
NPR wanted several reporters and support staff to have access to the map. "Allow anyone to edit this map" must have seemed like the right setting at the time. Unless you want truly anyone to be able to edit the map (and there are many great examples of crowdsourced My Maps), you'll want to make sure to leave that option unchecked.
It's a Feature, Not a Bug
To be clear, I didn't hack anything. There are examples of crowdsourced My Maps that are publicly editable by design, like The Great Fish & Chips Map. There are times for maps to be edited by one person, a group of people and by the whole world. Just make sure you have the setting for your situation.