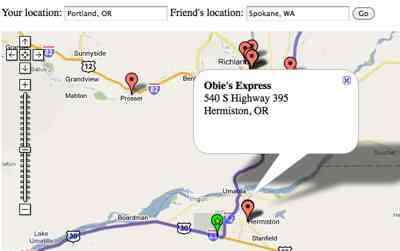 You're in Portland, but you have a friend in Spokane that you'd like to see. Nobody feels like driving the whole way, but you're both up to half the trip. Now, how do you determine where to meet? Meet in the Middle finds that midpoint and then searches Yelp for coffee. Yes, Hermiston is a long way to go for coffee.
» Try out the Meet in the Middle Mashup
Of all the examples in the book, I might have been most excited to include this one. It builds upon the Walker Tracker example where I found a point a certain distance along a route. And it works pretty well for both long distances and trips across town.
Want to search for something other than coffee? The code is simple enough that you could probably figure out how to make that change without even looking in my book. (But just in case you need a hint, it's on page 285).