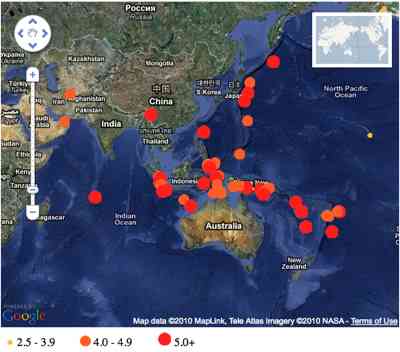 The U.S. Geological Survey (USGS) provides excellent data on earthquakes around the world. And, since they make it available as GeoRSS, it's a popular example for maps. So, it was a natural to include in my book, as one of the five example mashups in the final chapter.
» Try out the Earthquakes Mashup
Rather than simply overlay the GeoRSS, I chose to provide icons that helped visualize an earthquake's magnitude. And, since some parts of the world have more seismic activity than others, I provided a means to snap zoom to the hotspot zones.
If you're looking to recreate this mashup, you'll want these image files to make it happen: