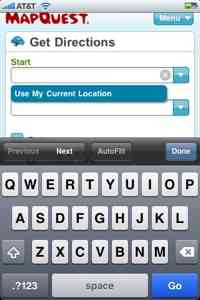 Now this should make you feel good about mobile web standards. Mapping pioneer MapQuest is now using the geolocation standard to provide directions from your current location in MapQuest Mobile — m.mapquest.com, which does not work in a non-mobile browser.
When you select a text field, MapQuest provides an option to use your current location. Then, when you submit the form, the browser requests your location.
The MapQuest blog post references Android, but it also works on my iPhone. And, since it's a standard, it will work in any other mobile browser that uses the JavaScript geolocation I described when the iPhone OS 3.0 was released.
It's great to see more of this "in the wild," especially from a major player like MapQuest.