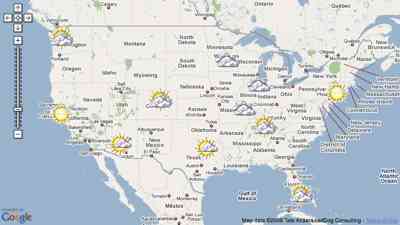 Every morning my father gets the newspaper and checks the weather map on the back page. Never mind that the paper was printed late the night before and that the weather forecast is even older. With the weather mashup in the book, I wanted to make it interactive and as updated as Yahoo Weather can make it.
I pre-selected 11 cities that I felt were geographically representative, but it's really easy to add more. The current conditions determine the icon that is placed over the city. When the icon is clicked, the map zooms in to show the forecast.
Though fairly simple, it's a fun one. And a great first step into connecting to other services to make even better maps.