This is part of a series looking at all 10 chapters of Map Scripting 101.
This chapter is where mapping starts to get really interesting, because it's about more than the map and simple markers. There are 11 fun and useful projects, from drawing simple lines on the map to creating entirely new imagery to add as an overlay.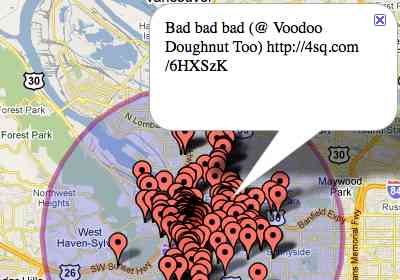 One of my favorite projects, for its high impact and easy implementation, is the circle overlay. You can use circles to show a search radius with just a few lines of Mapstraction and it makes a for a great visualization.
Other layering projects include drawing shapes (including the outlines of states/countries), using custom tiles and geo-referencing an image so it can be placed in the right location on the map.